Culturebot says "This is the theater of the future".
Its the last two days to catch Big Art Group's take over of Abrons Art Center in NYC. Culturebot says "This is the theater of the future."
Read the full article here.
Ticket, press, video and sound below…. Hope to see you there.
xo,
BIG
Tickets:
THE SLEEP (NYC Premiere)
Experimental Theater @ Abrons
April 15-18, 2010 @ 7:00pm
Buy Tickets $15
FLESH TONE (Preview)
Playhouse @Abrons
April 15-18, 2010 @ 8:30pm
Buy Tickets $15
4 Channel Video Installation
Underground @ Abrons
April 15-18, 2010 All Day
FREE
In the News:
New Yorker
Big Art Group is the brass-band name of the experimental theatre party founded by Caden Manson and Jemma Nelson in 1999….The group's new piece "Flesh Tone" (at Abrons Arts Center, April 15-18) will no doubt further italicize their credo: theatre not only shows our inner selves at work; it makes us better for having experienced it. Out loud. ♦ Read more–>
Village Voice

Big Art Group Celebrates 10 Years of Multimedia Weird in The Village Voice
Caden Manson wants you to know that Flesh Tone, Big Art Group's new multimedia performance, does not end with the destruction of the Earth and the theater, too. That was their last piece,S.O.S.—in which survivors of an epic economic catastrophe got engulfed in a mountain of exploding balloons. The last couple of shows before that one went out with a bang, too…. read more…
Brooklyn Rail
Caden Manson: I'm proud of the company, and how it's grown and the talent of everyone that's been in it, and how they all have grown in those ten years, too. Also where we've been and the audiences we've reached, because I think it's a unique opportunity to be able to have played the places that we've played in Europe and in the United States on both coasts, because the audiences are different in each place.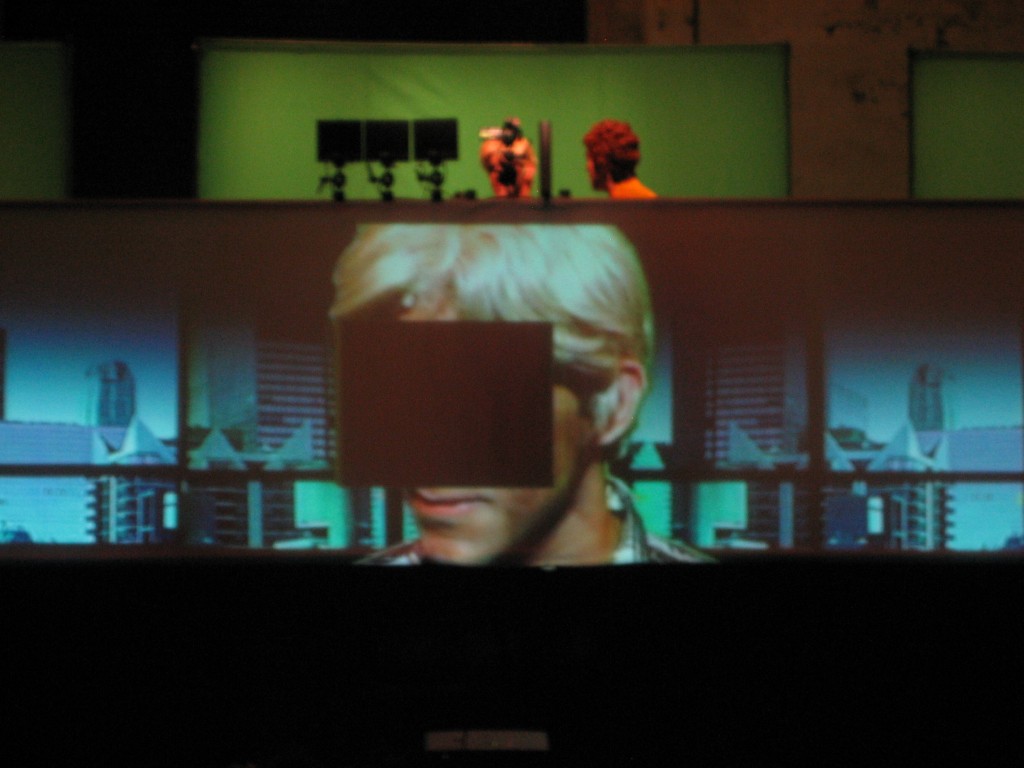 Nelson: The idea of the weekend at Abrons Arts Center is that it's past, present, and future. You can come see these video installations that represent past work, "SOS Animals" and "The Imitation." And then there's the present, which is "The Sleep," which is the musical collaboration that we've been working on with Theo Kogan and Sean Pierce. And there's the future in "Flesh Tone," which is our new group work, which is still in development.
Rail: I was at your very first casting call, and have seen your process: cultivating actors, and training them and getting them into the mindset and the physical exertion that it takes for the complexity of the choreography of your pieces. The first one we did, which was "CLEARCUT, catastrophe!," had a certain amount of choreography, but it really jumped from there to the next piece, which was "Shelf Life." With the amount of choreography and the complexity of what you had your actors do, there was probably a huge learning curve for you. But now, bringing the new actors in, I would imagine that it's exciting for them. read more…
This Hearts on Fire
In short, we loved it: the show was an amazing blend of fringe art, pop culture, and thought-provoking dialogue all wrapped into one and done like nothing we'd seen before. read more…
Spank Zine
Hugely talented artists and frequent Spank collaborators Big Art Group are staging a TAKE OVER of Abrons Art Center in Lower Manhattan to celebrate their 10th Anniversary with two shows and two video installations. We got director Caden Manson to give us a run down of some of the best moments of the last ten years. Don't miss this chance to see their shows this Thursday April 15th through Saturday April 18th at Abron Arts Center, ticket details at the end of this post. read more…
10 Years of Big Art Group:
Big Art has releases a short video montage of our works with commentary by Under The Radar Festival's Mark Russell and The Kitchen's Matthew Lyons.
[hdplay id=1 playlistid=2 width=720 height=480 ]
The Sleep CD free song online:
Click below to listen to the newest track "Bronze". Music is by Theo Kogan, Sean Pierce and Jemma Nelson.
https://bigartgroup.com/wp-content/uploads/2021/12/BIGARTGROUP_LOGO-1-300x138.png
0
0
Big Art Group
https://bigartgroup.com/wp-content/uploads/2021/12/BIGARTGROUP_LOGO-1-300x138.png
Big Art Group
2010-04-17 09:30:00
2010-04-20 11:10:27
Culturebot says "This is the theater of the future".